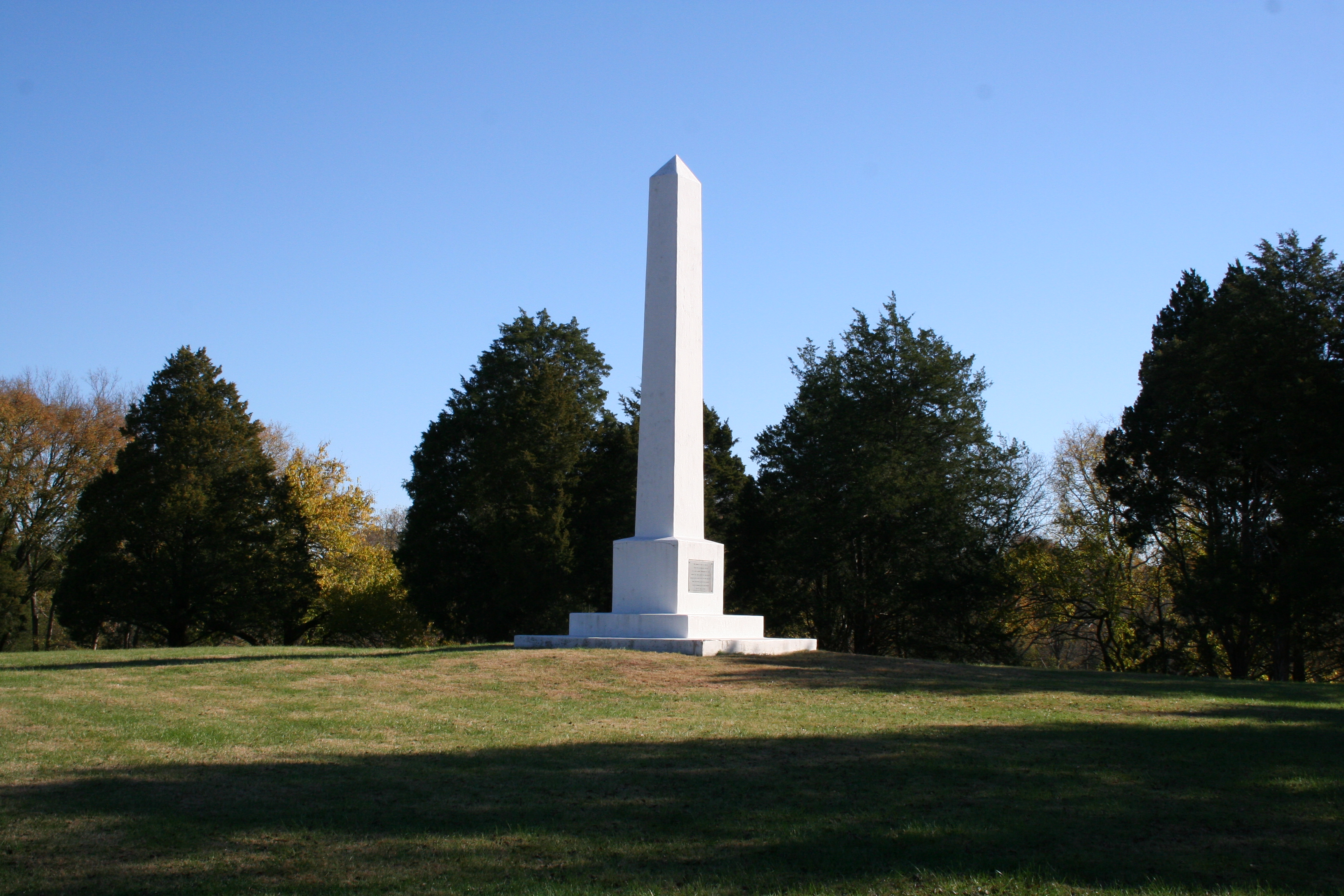 Artillery Monument-Stone's River (NPS)
CIRCULAR.] HDQRS. WITHERS' DIVISION, POLK'S CORPS, ARMY OF TENNESSEE, In the Field,
January 2, 1863.
Brigade commanders will keep a list of all men who straggled from the battle-field, and of all who continued to face the enemy as became soldiers. They will also keep a list of all officers who failed to discharge their duties properly. These lists will be called for hereafter.
By command of Major-General Withers:
D. E. HUGER,
Assistant Adjutant-General.
[Indorsement.]
Regimental commanders will take steps to gain the information necessary to enable them to make the reports alluded to above, which will be called for at an early day.
By order of Colonel White:
W. A. GOODMAN,
Assistant Adjutant-General.
HEADQUARTERS,
January 2, 1863-5.20 p.m.
[Major-General THOMAS:]
Negley's Third Brigade is moving toward the ford, to join the First and Second. If you think you have good use for it, send and intercept it.
By command of Major-General Rosecrans:
J. R. REYNOLDS,
Lieutenant and Acting Aide-de-Camp.
HEADQUARTERS,
January 2, 1863-6 p.m.
Major-General THOMAS:
You will please feel the enemy with your front line, a heavy line of skirmishers in advance, until you find them in strong force. Keep them moving if you can. Report to me the condition of things. I have ordered McCook to do the same, seeing your skirmishers in his direction.
By command of Major-General W. S. Rosecrans:
FRANK S. BOND,
Acting Aide-de-Camp.
HDQRS. WALTHALL'S BRIGADE, WITHERS' DIVISION, POLK'S CORPS, ARMY OF TENNESSEE, In Line,
January 2, 1863-10.45 p.m.
Major D. E. HUGER,
Assistant Adjutant-General:
MAJOR: Soon after dark to-night I sent out a staff officer to the major-general commanding division to inform him of my present position. I directed him to say that I was immediately in front of the enemy, with no infantry support on right or left. He informs me that Major-General Breckinridge was present when he delivered the message, and stated to the lieutenant-general commanding the corps that supports had been ordered to take position on my right and left, and that they were then in position. I deem it proper to state that since the return of my staff officer I have, in company with other officers, made a personal reconnaissance of the position, and find no infantry on my right, and none on my left, nearer than 800 yards distant. The enemy is immediately in front of this interval. A battery on my left in some measure commands the approach to this interval, but not entirely. General Breckinridge not being present, I desire to inform the major-general commanding division of these facts.
I am, major, very respectfully, your obedient servant,
PATTON ANDERSON,
Brigadier-General.
MURFREESBOROUGH, TENN.,
January 2, 1863.
General S. COOPER:
The expedition under Forrest has fully accomplished its object. The railroads in West Tennessee are broken in various places. Large amounts of stores destroyed, many arms captured, and 1,200 prisoners paroled.* Morgan has also done his work, but the full effect is not known. The enemy in Tennessee and Mississippi are without railroad and telegraphic communication with their Government.
BRAXTON BRAGG.
JACKSON,
January 2, 1863.
General BRAGG, Murfreesborough:
I congratulate you upon the success which has attended all your operations. Press them vigorously I want Forrest and Roddey on this side of the Tennessee. Direct them to send to me for orders.
J. E. JOHNSTON,
General.
*See Series I, Vol. XVII, Part I, p.593.
Official Records, Series I., Vol. 20, Part 1, Pages 292,293,476,477.
The Battle of Stones River was unusual in that there was a one day lull (January 1) in fighting. Confederate cavalary spent the day disrupting Rosecrans' line of communications to Nashville, but the infantry stayed put. During the night the Union abandoned the Round Forest and Bragg ordered Breckinridge to recross and take the high ground. Breckinridge told Bragg it was impossible and Polk told Bragg nothing worthwhile would be accomplished. But at R PM Breckinridge moved to the attack with 4,500 men. Rosecrans had the position occupied byVan Cleve's division and the brigades of Grose and Hazen. They were driven off, but in turn the Confederates were destroyed by the massed fire of 58 guns under Major John Mendenhall which had been posted across the river. Breckinridge lost 1,700 men in the attack. This ended the fighting at Stones River and Bragg would withdraw unpressed on January 3-4.