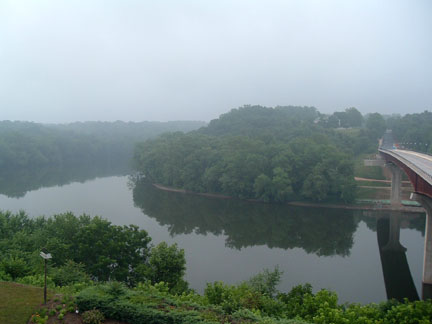 The Potomac crossing at Shepherdstown (photo by Steff, city-data.com)
HEADQUARTERS VIRGINIA FORCES,
Richmond, Va., May 12, 1861.
Col. T.J. Jackson,
Commanding, &c, Harper's Ferry, Va:
COLONEL: I have just received your letter of the 11th instant, by Colonel Bennett. I am concerned at the feeling evinced in Maryland, and fear it may extend to other points, besides opposite Shepherdstown. It will be necessary, in order to allay it, that you confine yourself to a strictly defensive course. I presume the points occupied by you at Point of Rocks, Berlin, and Shepherdstown are on our side. I am glad to hear that volunteers are assembling. Over two thousand arms have already been sent to you, and one thousand more have been ordered this evening. If you only expect to receive sufficient volunteers to swell your force to four thousand five hundred men, I do not see how you can require five thousand arms, as you must now have nearly three thousand armed, besides the three thousand arms, above mentioned, ordered to you. We have no rifles or cavalry equipments. The latter may use double-barreled shot guns and buck-shot, if no better arms can be procured. I will see to the quartermaster. I fear no field battery can be sent you besides that now preparing. The Fourth Regiment Alabama troops, from Lynchburg, have gone to you, and I have ordered two others from the same point. Ammunition has also been ordered to you. You know our limited resources, and must abstain from all provocation for attack as long as possible.
I am, &c.,
R. E. LEE,
Major-General, Commanding
Jackson had written Lee the previous day on the need for more arms, and particularly artillery, as Union sympathizers were massed on the opposite side of the river at Shepherdstown with artillery. Lee no doubt also felt constrained to hold Jackson's natural aggressiveness in check. Early on Jackson was focused not just on Harper's Ferry but all of Western Virginia, especially Grafton. The quartermaster referenced was John Harmon, who went on to fame as the profane wagon driver who kept Jackson's men supplied and his heavy equipment moving. Harmon was reluctant, according to Jackson, to accept a position but might if a commission was provided, which Lee ascents to here (a captaincy). Finally, many historians claim the Confederates were greatly surprised by Unionist sentiment in Maryland during the Antietam Campaign. Feeling in Western Maryland was clearly known to Lee and Jackson by May of 1861, as this letter attests.