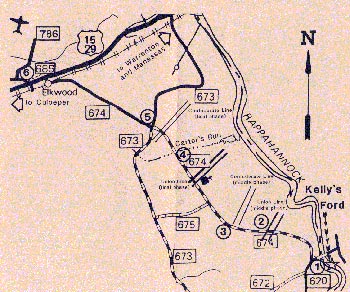 Kelly's Ford Area (

NPS)
HEADQUARTERS,
February 7, 1863-9.30 p. m.
GENERAL: The enemy moved up in considerable force on the Marsh road yesterday and day before. Three brigades (infantry) encamped near Grove Church, while a force of cavalry came to Kelly's Mills with one gun, and another party attacked my pickets at the railroad bridge. This latter force endeavored to destroy the bridge, but were foiled in their attempt. Just at dark a party got under bridge on the opposite side of the river, behind the abutments, and cut a few of the posts, attempting to fire the timbers at the same. In the meantime a vigorous attack was made on my pickets, who got into the rifle-pits, and held their ground resolutely. The enemy were driven off after some hours' fighting, and my loss was 1 man wounded.
The whole force of the enemy retired at 2 a. m. this morning. I regret that the condition of my horses did not allow me to follow them. The infantry have also fallen back.
My scouts have captured 25 prisoners in the last few days and killed 6 of the enemy. All is quiet along the lines to-night.
I am, very respectfully, yours,
WADE HAMPTON,
Brigadier-General.
Official Records, Series I., Vol. 25, Part 1, Page 9.
Joe Hooker was inclined to an aggressive use of cavalry. Early into his tenure he began to press along the line of the Rappahannock River to determine Confederate dispositions. A particular target of interest was the railroad bridge referenced her.