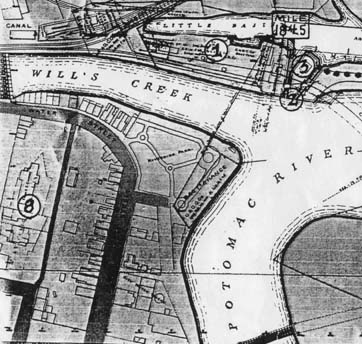 Cumberland, Maryland
HDQRS. SECOND DIV., DEPARTMENT OF WEST VIRGINIA,
New Creek, W. Va.,
January 11, 1864
.
Captain T. MELVIN,
A. A. G., Dept. of West Virginia, Cumberland, Md.:
CAPTAIN: Colonel Thoburn reports that a deserter from McNeill's company arrived yesterday morning at Petersburg, who reports that the force in the vicinity of Moorefield is composed of detachments from the commands of Imboden and Fitzhugh Lee. He states that the conversation among the men is that Early is at Orkney Springs and Fitzhugh Lee's entire command in camp. He heard them talk of shoeing their horses and making another demonstration in the direction of Petersburg. The supply train has reached Petersburg in safety. The enemy was in wait for it across the Patterson's Creek Mountain, but owing to the strength of the guard did not attack.
I am, captain, faithfully,
JAS. A. MULLIGAN,
Colonel.
Official Records, Series I., Vol. 33, Part 1, Page 372.
Early's whereabouts were still of great concern to Union planners. The war in western Virginia never really subsided until late in the war. Although there were few battles of any size in the region, there was always fighting or threats of fighting. The B&O Railroad was constantly protected and threatened.