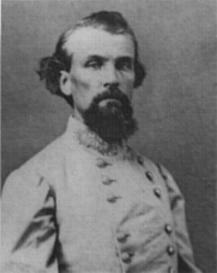 General Nathan B. Forrest
HEADQUARTERS DISTRICT OF EASTERN ARKANSAS, Helena, Ark.,
January 26, 1864.
Captain HENRY N. PAYNE,
Commanding Liberia Guards, 4th Ark. Vols., African Descent:
SIR: It is reported that the rebel Colonel Forrest constructed a raft and made a raid on Island Numbers 63, last night.
You will embark your company on the S. B. Bertha at 11 a. m. and proceed to the island, where on arrival you will ascertain all the facts and co-operate with Captain Holibaugh. You will take such steps as the contingency demands, using a sound discretion, and return and report as soon as practicable.
Your obedient servant,
N. B. BUFORD,
Brigadier-General, Commanding.
Official Records, Series I., Vol. 32, Part 2, Page 228.
Forrest remained active during this period, launching numerous raids. He had the advantage of the vastness of the territory in which he operated and the speed of cavalry often moving against infantry
.
But his forces were generally not large enough to inflict substantial damage.