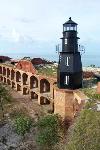 Fort Jefferson, Dry Tortugas
HEADQUARTERS DIVISION OF THE POTOMAC
Washington, August 14, 1861.
Lieut. Gen. Winfield Scott, Commanding U. S. Army
GENERAL: I am informed by Brigadier-General McDowell that 62 non-commissioned officers and privates of the Second Reigment of Maine Volunteers have formally and positively, and in the presence of their regiment, refused to do any further duty whatever, falsely alleging that they are no longer in the service of the United States.
In concur in the suggestion of General McDowell that this combined insubordination, if not open mutiny, should be immediately repressed; and I approve of his recommendation tha the insubordinate soldiers should be immediately transferred in arrest and without arms to the Dry Tortugas, there to perform such fatigue service as the commanding officer there may assign to them, until they shall by their future conduct show themselves worthy to bear arms.
Very respectfully, your obedient servant,
Major-General, Commanding
Official Records, Series I, Vol. 5, Page 561.
Terms of service became an issue with some of the volunteer soliders.

The 2nd Maine soldiers who engaged in mutiny believed their regiment was militia, and thus bound only to three months service.

The 79th New York, on the same day, rebelled over a number of issues including the appointment of a new commander without a vote.

The 79th believed they had the right of militia troops to vote on a new commander, as opposed to having the Army designate one for them.

A number of soldiers from the 2nd Maine were, in fact, marched through Washington and placed on the U. S. S. Powhattan, bound for the Dry Tortugas.

Fort Jefferson, 70 miles west of Key West, was as thoroughly inhospitable a place as the Union had at its disposal.