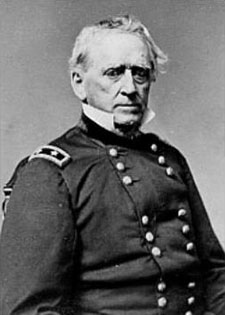 Major-General John Adams Dix
Baltimore
,
Md.
,
November 12, 1861
.
Brig. Gen. H. H. LOCKWOOD, Comdg. Expedition to
Eastern Shore
.
GENERAL: I have just seen with great surprise and regret a memoranda of an order said to have been issued by Major Andrews, of the Second Delaware Volunteers, to Captain Moorehouse of the said regiment, under which order a very respectable member of the bar of Worcester county, Mr. E. K. Wilson, of Snow Hill, has been arrested.

The memoranda states in substance that—
All persons who have lately uttered expressions of hostility to the Government or have spoken disrespectfully of the President of the
United States
are to be arrested and detained in camp.
If it be so I wish to stamp the whole transaction with my most marked disapprobation and I believe there is no man in the
United States
who would be more annoyed by it than the President himself.

It is in direct violation of the instructions I have given and is calculated to defeat our efforts to show the people of
Maryland
of all classes that their rights of person and property are not only to be scrupulously respected but protected instead of being invaded by the military forces we have sent among them.

No arrest is to be made without your special order in each case and then only for overt acts and giving aid and comfort to the enemy.
I am well aware that such an order has not had your approval and I should direct the officer who issued it to be arrested if I were not sure that it originated in mistaken zeal.

You will please have it rescinded and do all in your power to repair the wrong done under it.

And I request your especial and prompt attention to Mr. Wilson's case, leaving it to your discretion and good judgment to do what is right.

If his alleged offense is no more than the alleged memoranda above stated specifies he should be instantly discharged.

Our mission is not to annoy or invade any personal rights but to correct misapprehension in regard to the intentions of the Government.

And while all open acts of hostility are to be punished we should labor to win back

those who have separated themselves from us through a misunderstanding in regard to our motives and objects by kindness and conciliation, and above all by rigid abstinence from all invasion of their constitutional and legal rights.
I am, general, very respectfully, your,
Major-General, Commanding.
Official Records, Series II., Vol. 1, Part 1, page 613.
This message reflects the views of many Democrats toward Southerners at the start of the war, tending toward respecting individual rights where possible in territories in rebellion.

Dix was 63, had fought in the War of 1812 at the age 14 and became a lawyer, Senator from New York, and Secretary of the Treasury.

He earned the gratitude of
Lincoln
while heading the Department of Maryland by ordering the arrest of the
Maryland
legislature to prevent a vote on secession.