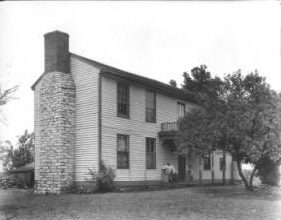 Russell House, Perryville 1927 (www.perryvillebattlefield.org)
HEADQUARTERS ARMY OF THE MISSISSIPPI, Perryville, Ky.,
October 8, 1862-6 a. m.
General BRAGG, Commanding Department No. 2:
GENERAL: The enemy seem disposed to press this morning. Their pickets commenced firing at daylight. Understanding it to be your wish to give them battle we shall do so vigorously. Should we succeed we will pass to the right, with the view of joining General Kirby Smith. If it should become necessary to fall back we will do so on Danville and Bryantsville, with a view of uniting with General Smith at that point. I have directed General Preston Smith to have all the trains belonging to this army now at Harrodsburg collected and moved out on the road to Bryantsville, and to be ready to move, when it should become expedient, on that place.
Respectfully, yours, &c.,
L. POLK,
Major-General, Commanding Army of the Mississippi.
P. S.-General Smith should cover and protect these wagons should it become necessary.
Official Records, Series I., Vol. 16, Part 1, Page 1096.
The amount of information available in the O.R. for particular battles can vary widely. For example, there is very little day of battle correspondence from Antietam. In spite of Polk's report, by 10 a.m. he still had not attacked and Bragg himself came up to realign the Confederate lines in preparation for an en echelon attack. It was not until 2 p.m. that Cheatham began the primary Confederate attack against the Union north flank. Although it initially gained grain it was repulsed. Buckner's division then attacked and penetrated to the area of the Russell House, between the crops of Gilbert and McCook. The gap was plugged and Sheridan repulsed the attack and counterattacked, driving the Confederates back through the town of Perryville. Because of a rare "acoustic shadow" Buell was not aware for about 90 minutes of the attack on McCook and lost the opportunity to smash Bragg's forces and make his victory complete. The Union forces lost 4,211, the Confederates 3,396. Bragg removed his army to East Tennessee, and Buell had achieved a significant (but incomplete) victory.