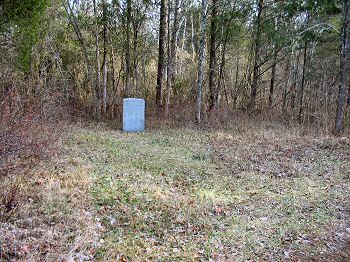 Site of Pelham's Wounding (Civilwaralbum.com)
NEAR FREDERICKSBURG,
March 19, 1863.
His Excellency JEFFERSON DAVIS,
President of the Confederate States:
Mr. PRESIDENT: On my arrival yesterday, learning that the enemy's cavalry had retired across the Rappahannock, and that no effort was being made by their infantry to cross the river, I countermanded the orders for Pickett's and Hood's divisions to march in this direction, and returned to Richmond the two battalions of heavy artillery, armed as infantry, that I had brought up to Hanover Junction to guard our stores, railroad bridges, &c.
General Stoneman's attempt seems to have proved fruitless to him. His whole force was driven back by Fitz. Lee's small brigade. If he could restore to us our gallant dead, I should be content. I mourn the loss of Major Pelham. I had hoped that a long career of usefulness and honor was still before him. He has been stricken down in the midst of both, and before he could receive the promotion he had richly won. I hope there will be no impropriety in presenting his name to the Senate, that his comrades may see that his services have been appreciated, and may be incited to emulate them.
I have the honor to be, with great respect, your obedient servant,
R. E. LEE,
General.
Official Records, Series I., Vol. 25, Part 2, Page 675.
Pelham was marked for greater things, as Lee's comments attest. He had been in combat an amazing number of days during his short career. Lee's desire to see Pelham posthumously promoted was gratified by the Senate when they approved his promotion to Lieutenant-Colonel.