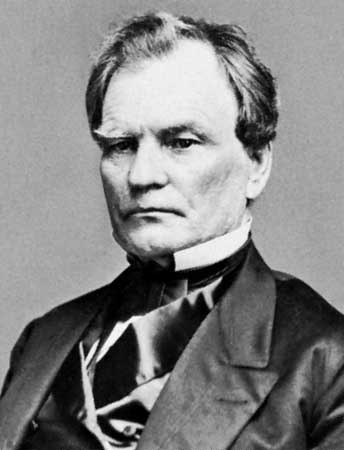 Senator Benjamin Wade
WASHINGTON, D. C.,
March 15, 1864.
Major General A. PLEASONTON,
Army of the Potomac:
SIR: Your communication, inclosing copy of one from General Meade to yourself in relation to your testimony before the Joint Committee on the Conduct of the War, has been received. The committee for more than three years past have acted, and continue to act, upon the rule that the testimony taken by them shall be made known to no one until such time as they shall authorize it to be done. So careful have they been in this respect, that they have usually requested of their witnesses to inform no one of the character of their testimony. They have not done so this session, supposing that their desire was sufficiently well understood to render it unnecessary. In one instance only has any witness been permitted to see and examine the testimony before the committee themselves made it public. General Charles P. Stone made application to the committee, not to the witnesses themselves, for permission to examine the testimony in relation to his administration, basing his application upon the ground that he had reason to believe that his long imprisonment in Fort Lafayette was, to same extent, caused by that testimony. The permission was accordingly granted to him. The committee do not now see any good reason to induce them to depart from a rule so long established and hitherto so strictly adhered to. Should satisfactory reasons hereafter be presented, they would undoubtedly grant such a privilege to others. Until then they deem it expedient to adhere to the rule here indicated. The committee cannot suppose that any person would for a moment seriously entertain the idea of calling any witness they may think proper to examine to account for the testimony he may give. Being clothed by Congress with all its powers in the premises, their own self-respect and dignity will not permit them to acknowledge the right of any person to question their authority to examine any one upon any subject which they have been authorized and directed to investigate. In order to do that, every witness must feel himself perfectly free to answer any interrogations the committee may ask, or to give any testimony which may relate to the subject upon which he may be examined.
I remain, very respectfully,
B. F. WADE, .
Chairman, &etc.
Official Records, Series I., Vol. 27, Part 1, Pages 136-137.
The Joint Committee on the Conduct of the War was an abusive body which sought by close questioning of political figures to intimidate the military into conducting the war in accordance with Radical Republican principles. Their insistence on secret testimony was not to protect the rights of officers, but to increase the apprehension felt by the military toward Congress. Their activities had resulted in the wrongful imprisonment and subsequent harassment upon release of General Stone. Wade, the chairman, was opposed to Lincoln's more moderate plans for reconstruction and after the Wade-Davis Bill was pocket vetoed by Lincoln, he issued, with Davis, a manifesto critical of the President.
Wade was a key player in efforts to impeach Andrew Johnson, believing he would serve out the remainder of Johnson's term as president.